Archive for
January, 2009
1
I've come across a couple of books that Ian just love and I had to share them. The first one is Fisher Price's Little People Let's Go to the Zoo!. It's a great board book that doesn't have a lot of reading content, but it has a ton of things for Ian to check out and do. Here's the book description:
Featuring lots of new animals, Let's Go to the Zoo! teaches colors, counting, matching, and more in an entertaining way. With surprises hidden behind dozens of flaps, kids will want to visit the Fisher-Price zoo again and again!
It's fabulous and they are right. Ian loves going back to this book just to check out what's under the flaps. Even though there isn't that much to read, I can make it up as I go. I can ask him what the lion says or the tiger and he'll respond (he loves saying RAWR!). Each page is something different too. The first one deals with sounds, the second one has colors, the third has numbers, the fourth deals with motions, and the last page is all about matching up the babies with the mommies. Ian loves looking at the babies (he loves pointing out all babies) and he's pretty good with matching them up too. When he got this book for Christmas, I wasn't expecting too much, but damn is he enjoying it. I have a feeling I'll have to end up replacing it because he loves reading it so much.
The second book that Ian (and mama) is going nuts over is B is for Bear by Roger Priddy. Ian is a huge fan of the Usborne Touchy Feely books (i.e. That's Not My Dragon by Fiona Watt and Rachel Wells) and this one is along that same line, but it's all about the alphabet. Whereas the Usborne Touchy Feely books are simple and repetitive, this one is a little more indepth (for a toddler) and it's great. Each page has a different letter of the alphabet with an image and one of the images has something he can touch. There isn't something on each page, but it's not needed because he loves running his hands over the entire page and finding the "hidden treasures". One of the things I like is that the sentences aren't all the same. While there is still the rhyming theme going on, I'm not reading the same 5 words over and over again (like in the Usborne Touchy Feely books). This is the other book that Ian has been reaching for a lot lately. Plus it's one of the bigger board books so Ian can put this in his lap and read on his own (which I've seen him do).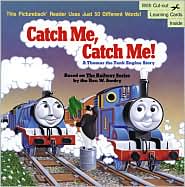 Another set of books that has Ian jumping for joy round the clock are the Thomas the Tank Engine and Friends stories. He's been going nuts over trains ever since he got a domino laying train for Christmas and these were a godsend. The best part about the books, they are short and sweet. Each book contains 3-4 stories and Ian has no problem sitting through one or two. And, not all the books contain 3-4 stories either; there are a wide selection of content for the books. One of the more simplier books, Catch Me, Catch Me! only uses 50 words to tell the story about a race between Thomas and Gordon. Another great aspect of these novels are the DVDs. Now that we're reading so much Thomas the Tank Engine, I had also picked up a few of the DVDs so Ian could see the trains and they are great. He loves watching the trains on the TV and I love it because each segment is only about 5 minutes long. These stories are perfect for his attention span and it increases his vocabulary.
The last book that Ian tends to go back to time and time again is Matthew Van Fleet's Spotted Yellow Frogs. The book itself is really simple, but he loves being able to pull out the pages and looking inside. The basic idea is that on 8 different pages, there are 8 different colors and patterns, that when you turn each flap reveals an animal of that color and pattern. Then the last page is a huge fold out page where each of the animals are part of a mural, but all of their patterns have been changed. Ian loves the "flap" part of the book. He'll sit there and we'll go through it 4 or 5 times before he gets bored with it. Plus, they don't have just one animal under each flap, but multiples so we can also count how many are there. It's not that complex, but it's another great story we can make our own. Ian can do the sounds of the animals, count how many are there, tell me what the colors are, etc etc.
So those are Ian's favorites at the moment. He has other books he likes to read, but these are the ones he keeps going back to and I'm really glad they are in my collection. Although, I have a feeling that once the Thomas DVDs go back to the library, I'm going to get into trouble.